A New Executive Director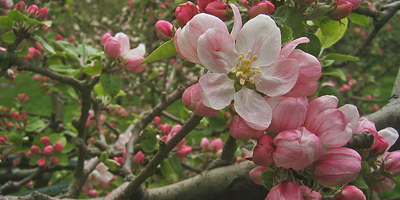 At Cloud Mountain, we are used to change. Much of agriculture is about being attuned to the seasonal changes of plants, weather, and ecosystems. One might go so far as to argue that success in agriculture depends on the ability to anticipate and plan appropriately for inevitable change. So too, in the growth and development of organizations, and this spring, we find ourselves anticipating and planning for a different, but no less exciting, kind of change.
After six years as our Executive Director, Tom Thornton has made the decision to step down from his position. Tom has served as the Executive Director of Cloud Mountain Farm Center since its transition in 2011 from a private business to a 501(C)3 non-profit. Under Tom's oversight, the organization has become an important player in the field of agricultural education. We are fortunate that Tom has agreed to continue on with the organization in a capacity that builds on his skill and passion for research and crop development.
So, what will a new Executive Director mean for Cloud Mountain Farm Center? While it most certainly means change, it also represents an opportunity to expand and refine our efforts to build dynamic, local food systems. A new Director will bring fresh ideas and energy into the organization, but be assured we will continue to deliver the high-quality plants, produce, expertise, and education that you count on us for.
The Search Begins
Our Board of Directors has been hard at work over the last several months, developing a strategy for the recruitment and hiring of a new Executive Director. We anticipate posting a job description in April, with the intention of having a new Director in place by the middle of 2017. However, we are committed to finding the right candidate for this leadership role, and Tom will continue to serve as the Executive Director until a new Director is hired. Please continue to watch our blog for future announcements about the search process.
In the meantime, we hope you will join Cloud Mountain's Board and staff in thanking Tom for his leadership and dedication over the last six years!