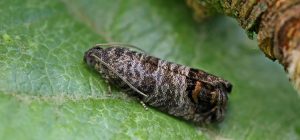 Hopefully many of you have played with the codling moth tracking tool we posted about last year, and are tracking a weather station near you, in hopes of controlling codling moth this summer. Watching the weather has been tricky this year, with temperatures fluctuating between warm and cool. The past two weeks have been quite cool, making it hard to remember the unusually warm and dry weather we had in May.
Despite the recent cool weather, we are close to the target accumulation of heat. Ideally, a control spray should go on at 525 DD. For the Bellingham Airport, that target will be reached on Friday this week. Farther out in the county where it's a little warmer, the target DDs will be reached earlier, maybe Wednesday or Thursday.
Takeaway, if you are planning on controlling codling moth by spraying this year, be ready this week!