At this time CMFC is not accepting applications. For information about the 2019 internship please contact our Education Manager at annah@cloudmountainfarmcenter.org or (360) 966-5859 x1025.
Program Information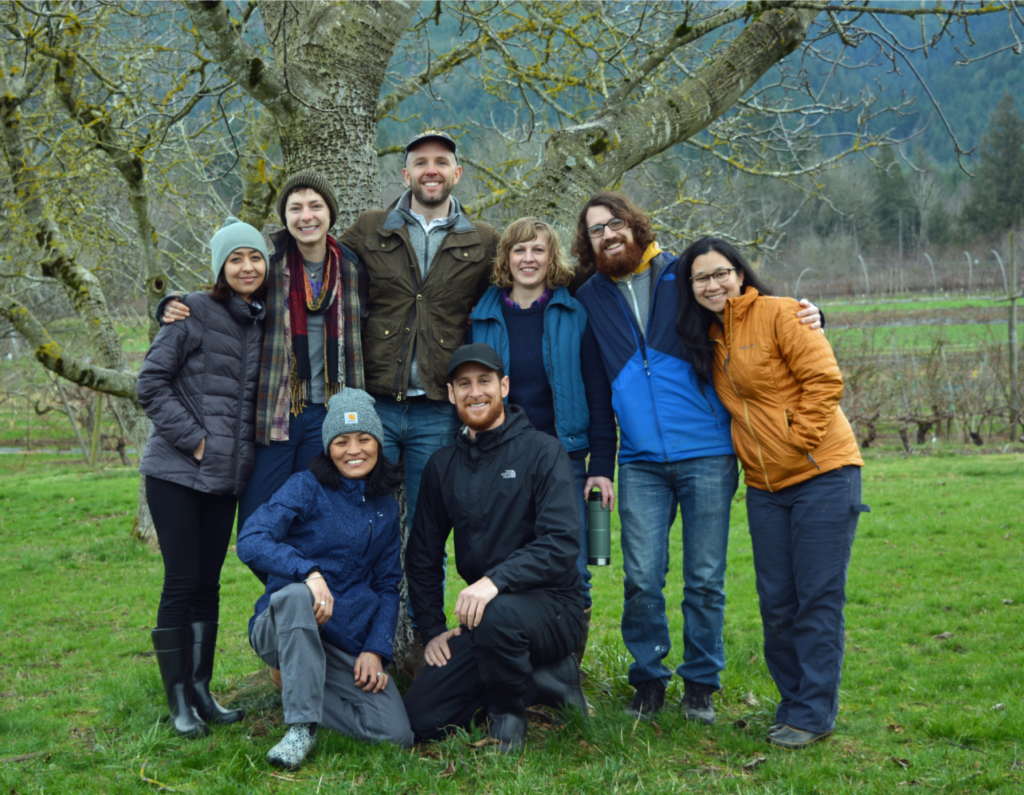 The Cloud Mountain Farm Center Intern Education Program is a rigorous integrated educational curriculum and work-based learning program. This program gives interns a hands-on, farm-based, full-immersion experience in agricultural production and management as well as a solid understanding of the big picture challenges that affect NW agriculture and the communities it serves by putting interns alongside permanent staff on a daily basis. Interns see first-hand what it takes to keep farmlands healthy and agricultural businesses thriving.
Depending upon interests and experience interns may participate in a number of possible internship tracks offered through CMFC:
Onsite Internships
Interns can expect to work up to 32 hours a week
Food Production Internship – Interns working on-farm at CMFC get a well-rounded work experience in vegetables, orchards, vineyards, nursery production, and sales and customer service.
Nursery Production Internship – Interns will gain experience primarily in plant propagation, field production, container production as well as customer service and sales, while still having the opportunity to work in orchards, vineyards, and vegetables when the season allows.
Off-site Internships
Interns interested in focusing on other agricultural enterprises that CMFC does not have including livestock production, herb production, or CSA may be connected with one of our partner farms. Further contact information will be given if this is requested.
Internship Education Day participants
For individuals interested only in the classroom and field curriculum part of the program. This would be 1 day a week for 8-9 hours of education. See Continuing Education Units Section for more information.
The CMFC internship program extends from mid-February through October. All interns will participate in a weekly education day, generally meeting at CMFC. All interns are expected to attend the weekly educational day. Preparation for the education day may include supplemental readings and additional planned exercises or relevant explorations into a subject.
In addition to the education day, onsite interns will spend up to 32 hours/week as production staff and perform farm and/or nursery duties as the season dictates.
Onsite interns – CMFC interns will be expected to follow all guidelines set forth in the employee personnel policy. CMFC interns will be paid an hourly wage of $11.50 and will have the option to take up to 5 unpaid vacation days throughout the internship duration.
Off-site Interns –Those interns placed at partner farms will also work as part of a farm crew, with hours and duties established by the partner farm. Wages and living arrangements will be determined solely by the participant and the partner farm.
Program Dates
The 2018 Internship Program will begin in Mid-February 2018 and run through October 2018.
Tuition
Tuition for the 2018 internship is $4,500. Tuition is due at the beginning of the program; however monthly payment schedules may be an option.
Continuing Education Units (CEU)
The Cloud Mountain Internship program is an affiliated Cultivating Success Host Farm, which is a program of Washington State University's Food Systems. Through this affiliation, Cloud Mountain interns are eligible to receive WSU Continuing Education Units. Applicants that are unable to commit to the employment portion of the program, but are interested in participating in CMFC's full curriculum may still receive these credits. For more information about CEUs please email Jane at jane@cloudmountainfarmcenter.org
Scholarships
There are limited scholarships available which are based on need. Cloud Mountain Farm Center's goal is that finances should not be an obstacle to participation in these programs. Please inquire to get current information about what help is available.
The three program goals are:
1.  Exposure
Field trips, readings and discussions will present a variety of agricultural models and challenges to provide a picture of various farming opportunities through:
circumstance of resources
land
market
community
history of farming
labor practices
farming theories and philosophies
2.  Entrepreneurial Development
Interns will make connections between their interest in agriculture, and models and systems which might best fulfill their future goals through:
business planning
marketing
value added products
product development
enterprise budgets
sales
3.  Technical Development
Interns will come away with hard skills and the ability to evaluate economic opportunities. This will include production of perennial, annual, and nursery systems, with some exposure to livestock/integrated systems. Some of the areas of focus are:
soil science
botany
irrigation
pest management
food safety
fertility management
purchasing and maintenance of tools
crop and rotation planning
cover-cropping
ecosystems management
whole-farm planning
The intern program averages one day a week where all interns will participate in classroom education, hands-on workshops, and field trips to other farms in the region. The curriculum gives interns the opportunity to explore agriculture through exposure to
diverse agricultural systems
business management
skill development
business planning
marketing
social and environmental stewardship
development of technical skills related to soil science, botany, ecological pest management and resource management
Is on-farm housing available?
We do not offer housing as part of the tuition cost. There is a house at the center available for interns to live in and pay subsidized rent.
How does the paid internship work in conjunction with the tuition charged for the program?
Cloud Mountain is committed to paying all interns for their work. Interns are paid Washington State minimum wage. Interns are part of the farm team, working 32 hours a week. Tuition is to be paid the first month of the program, or, if needed, a payment plan can be discussed for you.
Can tuition be deducted directly from paychecks?
No. Washington State Labor & Industry rules prohibit us from taking tuition deductions from your paycheck.
How will time be spent during the educational part of the program?
The entire program is educationally based. In addition to working 32 hours per week, six to eight hours per week will be dedicated to formal instruction. Some trainings involve actively participating in the field. For example, during formal instruction, interns will learn about the principals of irrigation and then we will go out in the field to learn the proper way to fix irrigation mainlines. Interns learn about technical concepts and principles, examples of materials, and why the repair needs to be done a certain way. Training for orchard pruning concepts includes multiple presentations and demonstrations both in the classroom and in the field. Interns observe pruning strategies and types of cuts and then actively make pruning cuts and explain their thought process during the practicum. These examples show how the six to eight additional unpaid hours are integrated into the program. Some of this time may be spent in a question-and-answer format during many of the field programs, and some hours may be spent in a classroom setting.
Will there be classroom presentations and workshops as part of this program?
Yes, there will be formal presentations by staff and guest speakers. Interns are expected to participate fully and, on occasion, may be asked to make presentations themselves. In some cases, farmers from the local community may join these educational activities to improve their understanding on a specific subject.
Will interns be involved in research opportunities and real-time problem solving?
If research needs to done on an emerging issue on the farm, interns will have the opportunity to tackle the problem in real time. Cloud Mountain currently has several ongoing research projects for interns to be involved with. The design, evaluation, and analysis of this work is considered part of the educational program. We believe that research and innovation play a significant role in developing a sustainable business that leads to stronger, sustainable agriculture.
How do I know if this program is for me?
This program is educationally and experientially intensive, demonstrating the rigors of market farming. It has physical demands on a daily basis that combine with an ever-shifting list of priorities that don't turn off at the end of a traditional work day. If you like learning in a dynamic, demanding, fun, and exhilarating place, this program is a great opportunity.
What is Cloud Mountain's responsibility for my learning?
Our job here is to work with you to develop a well-rounded set of technical skills and to empower you to move forward with your work in sustainable agriculture.
Work schedules
Schedules will change throughout the seasons. All interns should expect to work one day on weekends throughout the internship program at Cloud Mountain.  Interns must understand that agriculture runs on a seasonal clock and that work schedules can –and will– vary, depending on the demands of the farm.
Intern Hilary 2013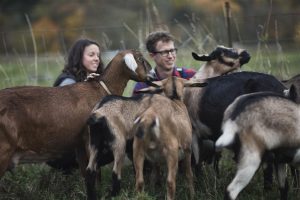 I chose the CMFC internship because of the variety of food cropping systems and the plant nursery they had. I was excited that education was a key component of the intern program and I would get a much more in depth understanding of the "why" rather than just being a farm hand.
The CMFC internship connected me a wonderful and supportive community, supplied me with understanding the available resources in the area, and gave my partner and I the confidence to move forward with starting Small Acres Farm with our fellow intern Chris Henderson. Small Acres produced fruits, vegetables, and goat products for a CSA and the Twin Sister's Farmer's Market. I was also lucky enough to gain full time employment at Cloud Mountain Farm Center and have continued learning in my various roles over the last five years.
Intern Alexis 2017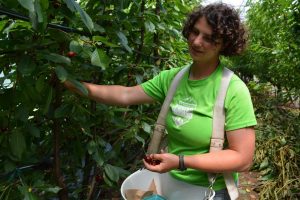 "This year, I've gone through some of the most intense personal and professional growth thus far in my life, and I feel that I owe a great debt to the agricultural community that I find myself in. My development wouldn't have happened without the guidance, openness, and support of my farm mentors, "rumimentors", fellow interns, and the many farmers, irrigation technicians, insurance agents, and other professionals that we've talked to. It was the right time, the right place, and the right group of people. I leave classes every Wednesday with a head full of ideas, eager to rise to the many challenges of farming in Western Washington. What an adventure! And I hope that I'm not so naive to understand that hard times come, disease spreads through the flock, that seed just didn't germinate, and farming doesn't always pay all the bills. But I feel pretty good about this little community I've found myself a part of, and I continually draw inspiration from all that you do." 2017 Intern Alexis, finished out her internship to move on to working a flock of sheep and work at a local store. She has leased a piece of local property and is continuing to learn how to take care of a flock of sheep and take care of the land she is working.