The Cloud Mountain Farm Center Internship is a vocational learning program for those interested in starting their own farm business and/or being a key employee on a farm. This program includes a hands-on, farm-based, full-immersion experience in agricultural production and management as well as a solid understanding of the big picture challenges that affect NW agriculture and the communities it serves. Interns learn first-hand what it takes to keep farmlands healthy and agricultural lands thriving.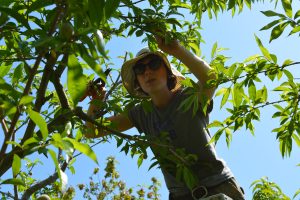 Cloud Mountain Farm Center operates both annual and perennial cropping systems as well as a retail nursery. Our annual organic vegetable production is on 5 acres of tractor cultivated scale and includes row crops, high tunnels, and leafy greens production. Our perennials include 5 acres of conventional and organic fruit trees and vineyards that include pome/stone fruit and table/wine grapes. Our retail nursery offers both fruit and ornamental plants. Interns will engage with all areas of production on the farm. 2019 Program Dates: March 1-October 18, 2019 Skills and Qualifications Priority will be given to applicants with the following skills and qualifications:
Desire to operate a farm business or be a key employee at a farm business
Some background knowledge of plant cultivation and at least one-year experience working at a production farm or nursery
Demonstrated ability to take initiative with a strong work ethic and ability to work well within a team setting
Physical ability to do demanding work in all weather and lift 40 lbs. repeatedly
University Credit and Partnerships The Internship is accredited by Washington State University's Cultivating Success Program.Upon completion of the program, interns will receive up to 12 continuing education credits from WSU. Students from other colleges and universities have received credits through participation in the program. If you are currently a student at another local college or university, please inquire about other credit and/or work study opportunities.
Work and Education Structure
CMFC values and depends on the work performed by interns throughout the season and as such, we've structure the program so interns are paid for their work. Additionally, interns will pay tuition for the educational portion of the program.
Lectures, Workshops, and Field Trips (approx. 8 hours/week)
Through instruction and exposure via lectures, workshops, and farm tours, interns complete a comprehensive curriculum that focuses on the following concepts:

Business and Marketing: business planning, enterprise accounting, value-added production, farm finances, grants and loans.
Soils and Fertility: soil science, tillage, cultivation, compost, and cover crops
Crop Production: irrigation, crop culture, tractors and implements, weed management, crop planning, botany, integrated pest and disease management, and orchard and vineyard management
Propagation and Nursery: vegetative propagation, seed biology, and greenhouse management
Environmental and Social Systems: land conservation, water access and rights, food access and food justice

Tuition for the 2019 season is $5,000 with a $500 rebate upon completion of the program. Tuition is due at the beginning of the program and covers all guest speakers, workshops, field trips, and educational materials over the course of the program.
Vocational (approx. 30-32 hours/week)
Interns will work as paid employees for approximately 4 days of the week or 30-32 hours per week. Interns are paid hourly at $12.00/hour. Work schedules will vary throughout the season and interns can expect to work some weekends.

Hands-on education happens through meaningful work in our vegetable, fruit and nursery enterprises. Farm work is fast paced and physically demanding involving repetitive tasks and will include working in sometimes extreme weather conditions. You can expect to work outside in the cold, rain, and heat.
Interns can expect vocational training in the following:

Annual Vegetable Production: propagation, seeding, cultivation, irrigation, harvest, high tunnels, introduction to tractor use, and post-harvest handling
Perennial Orchards and Vineyards: pruning and training, pest and disease management, monitoring, and harvest
Nursery Production: plant propagation and container growing
Marketing: Farmers Market, Restaurant Sales, Wholesale Markets
Please thoroughly read the 2019 Internship Description before applying. A $400 deposit will be due within 2 weeks of acceptance in order to secure your spot in the program.
Farm visits are strongly encouraged. Please contact annah@cloudmountainfarmcenter.org to schedule a visit to the farm.
Applications are due for the 2019 program by October 31st, 2018. We will continue to accept applications and conduct interviews on a rolling basis until all positions are filled. Please send the following application materials and all other program inquiries via email to annah@cloudmountainfarmcenter.org:
Responses to the essay questions found on the application form

Your current resume including education and work experience

A list of 3 references. Two of them must be professional. Please include their name, address, email and phone number.
Is on-farm housing available?
We do not offer housing as part of the tuition cost. There is limiting housing available for rent. Please inquire if you need housing.
How does the paid internship work in conjunction with the tuition charged for the program?
Cloud Mountain is committed to paying all interns for their work. Interns are paid Washington State minimum wage. Interns are part of the farm team, working 30-32 hours a week. Tuition is to be paid at the start of the program.
Will there be classroom presentations and workshops as part of this program?
Yes, there will be formal presentations by staff and guest speakers. Interns are expected to participate fully and, on occasion, may be asked to make presentations themselves.
How do I know if this program is for me?
The work is fast paced and physically demanding. The work accurately demonstrates the rigors of market farming. It has physical demands on a daily basis that combine with an ever-shifting list of priorities that don't turn off at the end of a traditional work day. If you like learning in a dynamic, demanding, fun, and exhilarating place, this program is a great opportunity.
Work schedules
Schedules will change throughout the seasons. All interns should expect to work one day on weekends throughout the internship program at Cloud Mountain. Interns must understand that agriculture runs on a seasonal clock and that work schedules can –and will– vary, depending on the demands of the farm.
Intern Hilary 2013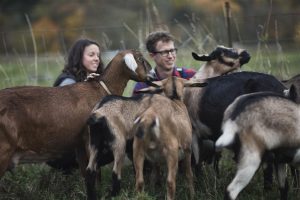 I chose the CMFC internship because of the variety of food cropping systems and the plant nursery they had. I was excited that education was a key component of the intern program and I would get a much more in depth understanding of the "why" rather than just being a farm hand.
The CMFC internship connected me a wonderful and supportive community, supplied me with understanding the available resources in the area, and gave my partner and I the confidence to move forward with starting Small Acres Farm with our fellow intern Chris Henderson. Small Acres produced fruits, vegetables, and goat products for a CSA and the Twin Sister's Farmer's Market. I was also lucky enough to gain full time employment at Cloud Mountain Farm Center and have continued learning in my various roles over the last five years.
Intern Alexis 2017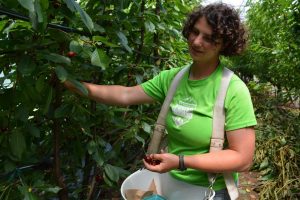 "This year, I've gone through some of the most intense personal and professional growth thus far in my life, and I feel that I owe a great debt to the agricultural community that I find myself in. My development wouldn't have happened without the guidance, openness, and support of my farm mentors, "rumimentors", fellow interns, and the many farmers, irrigation technicians, insurance agents, and other professionals that we've talked to. It was the right time, the right place, and the right group of people. I leave classes every Wednesday with a head full of ideas, eager to rise to the many challenges of farming in Western Washington. What an adventure! And I hope that I'm not so naive to understand that hard times come, disease spreads through the flock, that seed just didn't germinate, and farming doesn't always pay all the bills. But I feel pretty good about this little community I've found myself a part of, and I continually draw inspiration from all that you do." 2017 Intern Alexis, finished out her internship to move on to working a flock of sheep and work at a local store. She has leased a piece of local property and is continuing to learn how to take care of a flock of sheep and take care of the land she is working.
Thank you to our Sponsors: