About Cloud Mountain Farm Center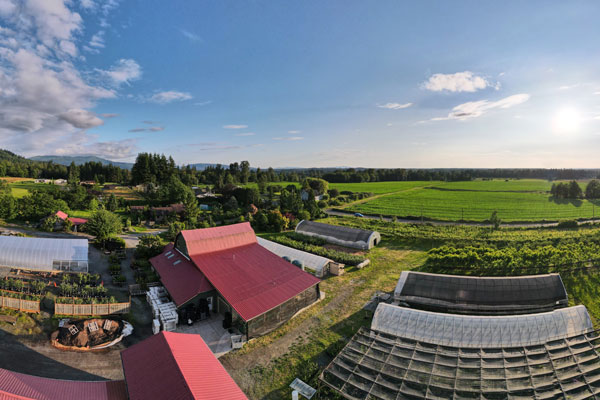 Photo courtesy of Connor Harron
Cloud Mountain Farm Center
Cloud Mountain Farm Center is a production farm, non-profit education center, and nursery located on 20 acres at the foot of Sumas Mountain. Founded in 2011, our mission is to share knowledge and resources that support a resilient, accessible, and equitable regional food system. We believe in farmers as leaders in community and climate resilience, and we believe that agriculture is for everyone. Our programs include the Cloud Mountain nursery, our organic fruit production, our incubator farm at Lawrence Rd., our agricultural education pilot program, our infrastructure & aggregation facilities and partnerships, and our exceptional workshops.
Learn more about us and our programs on our FAQ page.
Cloud Mountain Farm Center Programs
Incubator Program – a land-based, multi-grower project that provides training and technical assistance to aspiring and beginning farmers.
Organic Fruit Production – For over three decades, we have grown our farm through the selection of hundreds of common and uncommon tree fruits, berries, grapes, and small fruit. We focus not only on what is flavorful, interesting, and unique, but what is reliable and productive under organic management, and what varieties show promise for other regional small and mid-size farms as well as backyard growers. We sell our fruit at the Bellingham Farmers Market, through the Twin Sisters Farmers Markets, wholesale to local grocers, and restaurants, and on-farm when harvest quantities allow. We have a goal of moving at least 20% of our produce through mission-aligned channels, including getting local, organic fruit into schools, food banks and food access programs, and nonprofits aligned with our mission.
Cloud Mountain & Community-Led Workshops – a variety of workshops offered on topics ranging from basic food gardening to advanced fruit tree care. New in 2023: Community-Led Workshops offer a chance to learn from community experts on a wide range of farm-based skills.
Get Involved – Events, workshops, membership, and more!
Nursery – propagating and growing plants for Northwest gardens, and training home owners, gardeners, and new farmers how to grow perennial fruit and ornamental plants in our region.