Lawrence Rd. Incubator Farm
Inspired by national incubator farm projects, the Lawrence Rd. Incubator Farm is one approach for addressing the barriers new farmers face. Although each program is different, it is appropriate to generally describe incubator farms as land-based, multi-grower projects that provide reduced-cost access to shared land, infrastructure and equipment to aspiring and beginning farmers. Land lease is scaled to reduce one of the largest local and national barriers to entry, and equipment, resources, and infrastructure are offered through both a free and fee system. Farm businesses looking to scale up or build from the ground up who would benefit from low-cost land lease, shared equipment, and room to grow within a community of other farmers are a great fit. Applicants with strong farming or business backgrounds who will fill niches in food, fiber, meat, seed, or other avenues of crop production are highly encouraged to reach out for more information.
Complete program details can be found in the Incubator Manual 2023.
For more information, or questions about the application process, please contact CMFC Farm Director Elizabeth Hayes.
APPLICATIONS FOR 2023 ARE NOW CLOSED
Program Information
The 20-acre farm site is located in Everson, WA, approximately 13 miles northeast of Bellingham, and 2 miles south of the Cloud Mountain Farm Center's main farm and facilities. The program offers, on a fee basis, river bottom soil (Puyallup Fine Sandy Loam), equipment, access to irrigation, barn space, propagation space, limited cooler and dry storage space, networking opportunities, and access to an aggregation/distribution location serving market outlets.
Land is available in 1/4 acre to 3 acre parcels; applicants are encouraged to start with what they know they can manage, and pursue expansion from there. Detailed information about the program is available in the 2023 manual. Applications for 2023 are closed.
For more information about joining this program please contact Farm Director Elizabeth Hayes.
As part of its mission to "build experience, knowledge and community in order to expand dynamic local food systems," CMFC facilitates the Lawrence Rd. Incubator Farm. The program aims to reduce barriers to new farm businesses by serving the following:
Individuals trying to start or expand a farm business
Individuals who use organic practices
Individuals who lack access to land, equipment and/or infrastructure
Individuals with some production experience, who are close to business-ready, and have some level of need
Individuals whose business plan fills a need in the local food and farming community
Individuals interested in farming in the context of a learning environment
Who can apply
Priority is given to aspiring and new farmers; applicants must have at least 2 years of production farming experience
Farmers who want to grow in a cooperative & shared environment with others, and can abide by organic management standards
Existing farms that meet 2 out of the 4 criteria in the manual
Sole proprietors, partnerships, co-operative ventures–all that's needed is a business license, business structure is up to the applicant

Diversified vegetable growers, specialty crop growers, small livestock operations, berry growers, and more; acreages available from 1/4 acre-4 acres.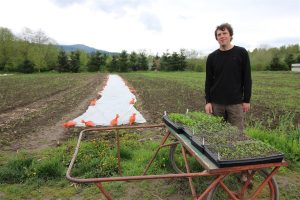 "I continued my farming education at the farming internship at Cloud Mountain. I was interested in a program that had the people and flexibility to help me set myself up to start my own farm business, or at the very least help decide if that was really what I wanted to do. By the end of the internship I had decided to apply to Cloud Mountain's farm incubator program. I started my farm business, Vertical Fog Farm, this past season. I started out small with fairly modest financial goals and focused on just a few crops. The season certainly had its ups and downs, but I learned a lot and exceeded my financial goals. Next season I plan to expand significantly by adding more crops, expanding my production overall, and increasing my market reach as much as I can." Learn more about Vertical Fog and Rob's story here.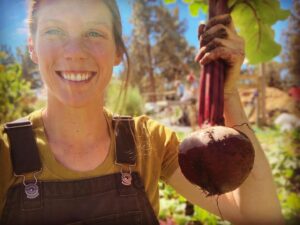 Currently, Em Blood farms half an acre at the Cloud Mountain Farm Center incubator site. "I'm hoping to grow as much as I can on a small plot," she says. "That means more faster-growing crops and a lot of prepping beds. I want to show others how much growth is possible in small-scale farming." Em's especially looking forward to growing medicinal herbs. She's also a soapmaker!  A recent transplant from Oregon, she's getting ready to explore what it means to be a farmer in this new climate. "I'm so happy to have stumbled upon Sustainable Connections," she says. "It's been so rejuvenating to feel all the support here. Cloud Mountain is hyper-connected, with those on the land and beyond. Everyone is so excited by farming. They've been kind and jazzed about local makers and growers." Learn more about Sonder Farmstead and Em's story here.
Savannah Flynn knows better than most how a dream can bear extraordinary fruit. With the help of mentors, leased ground, water, passion, and patience, she's grown Flynn Farms and the Whatcom CSA Project from an idea to a powerful presence in the community.  Savannah's journey to farming came from a deep desire to work for food security and hunger justice; she grows for food banks, hunger relief agencies, and food justice nonprofits, as well as to eager consumers and local retailers. Learn more about Flynn Farms and Savannah's story here. 
Nine years ago, Nick Spring and Sarah Robinson started Spring Time Farm, a beloved local farm that sells both wholesale produce and vibrant CSAs. Located in Everson WA, Spring Time Farm has quickly become one of the area's favorite farms for sourcing fresh, organic produce grown by folks who love what they do. Community is at the heart of what Nick and Sarah do. Learn more about Spring Time Farm and Nick and Sarah's story here.
What do I need in order to apply for the Incubator Farm Program?
All applicants must fill out the 2023 Application on our website. Additional narrative information that applicants feel is important can be sent via email to elizabethh@cloudmountainfarmcenter.org, or mailed to 6906 Goodwin Rd., Everson, WA. Farms must commit to having a business license at the start of their lease.Transportation to the farm site is a necessity; the farm is located in Everson, just 1 mile past the Nugent's Corner roundabout.
How much does the program cost?
Please refer to the 2023 manual for a full cost/fee schedule. Our hope is that this program lowers the financial barriers to entry for new farm businesses. Land is available at a scaled rate, starting at $550/acre in year one. Applicants are encouraged to read the manual to calculate applicable fees for their first year.
I've never farmed before, but I have a great business idea–is this the program for me?
No. There is limited technical support available for production-related instruction. Employment on local farms is a great option, as is enrollment in regional training opportunities such as the VIVA Farm Practicum or Organic Farm School. This program is geared toward launching growers who are ready to build their land-based business with reduced financial risk in their first 3-5 years.
I have a farming background, but am intimidated by the business aspect–is this the program for me?
Yes. Through the 2023 application, you will begin the outline of your business plan. CMFC staff will work with you and connect you with resources to refine your marketing and outreach strategy during the growing season.
What sort of support will I get with my business during the year?
The Lawrence Rd. farmer cohort is intended to be a collaborative and cooperative environment; CMFC staff are available for consulting and assistance with market development, buyer connections, networking opportunities, and basic technical assistance throughout the year. Meetings are scheduled three times per year–start of season, mid-year, and end of season–to check in on business development metrics and overall farm progress.
What crops and enterprises are allowed at the Incubator Farm?
The only crop not currently allowed at Lawrence Rd. is cannabis. Seed crop growers must be aware of neighboring commercial seed producers for isolation distances. Innovative business that fill niches in the local farm economy–mixed vegetable, fruit, herb, livestock, mushrooms–are all welcome to apply.
Do you have programming and applications in Spanish?
At this time, it is a substantial limitation of our program that it is available and supported only in English. We are actively working to ensure that our program is accessible to all of the farm expertise in our community. For bilingual farm business development support, farmers are encouraged to contact VIVA Farms in Skagit.