Lawrence Rd. Incubator Farm
Inspired by national incubator farm projects, the Lawrence Rd. Incubator Farm is a relatively new approach for addressing the barriers new farmers face. Although each program is different, it is appropriate to generally describe incubator farms as land-based, multi-grower projects that provide reduced-cost access to shared land, infrastructure and equipment to aspiring and beginning farmers. Land lease is scaled to reduce one of the largest local and national barriers to entry, approaching market rate by the third lease year. Farm businesses looking to scale up or build from the ground up who would benefit from low-cost land lease, shared equipment, and room to grow within a community of other farmers are a great fit. Applicants with strong farming or business backgrounds who will fill niches in food, fiber, meat, seed, or other avenues of crop production are highly encouraged to reach out for more information.
The manual below describes the specifics of the Lawrence Rd. Incubator Farm (Updated 2020)
Cloud Mountain Farm Center Incubator Farmer Manual, PDF (665 KB)
The 20-acre farm site is located in Everson, WA, approximately 13 miles northeast of Bellingham, and 2 miles south of the Cloud Mountain Farm Center's main farm and facilities. The program offers, on a fee basis, river bottom soil (Puyallup Fine Sandy Loam), equipment, access to irrigation, barn space, propagation space, limited cooler and dry storage space, educational opportunities, and access to a aggregation/distribution location serving market outlets.
For more information about joining this program please contact Farm Director Elizabeth Hayes.
As part of its mission to "build experience, knowledge and community in order to expand dynamic local food systems," CMFC facilitates the Lawrence Rd. Incubator Farm. The program aims to reduce barriers to new farm businesses by serving the following:
Individuals trying to start or expand a farm business
Individuals who use organic practices
Individuals who lack access to land, equipment and/or infrastructure
Individuals with some production experience, who are close to business-ready, and have some level of need
Individuals whose business plan fills a need in the local food and farming community
Individuals interested in farming in the context of a learning environment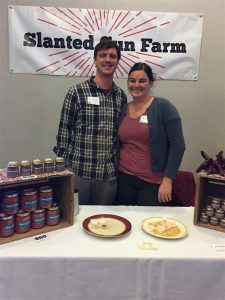 As one farmer described it, "For me the incubator farm takes away the uncertainty about finding and leasing land and acquiring or hiring equipment. This lets me focus on developing production systems that work for me, finding customers and figuring out how to actually sell what I grow, and developing relationships with other farmers and producers and the local food system in general."
Cloud Mountain Farm Center's Incubator program has given us the opportunity and access to the infrastructure, equipment, and mentorship we need to start our own vegetable farm business. After 3 seasons, we are successfully growing 2 acres of vegetables for retail and wholesale markets and producing chili powder and dried herbs. Utilizing the Center's processing center has been an integral part to our growing our business and shown us the potential of creating value added products.
Incubator Farmer Rob Jordan, Vertical Fog Farm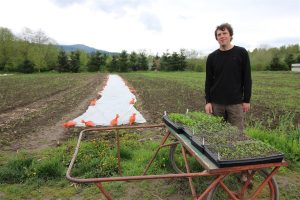 "While working as a life science researcher in Seattle I volunteered for several years in a variety of community gardening and other garden education programs. I was getting a little bored and burned out with my research work so at a friend's suggestion I took a leave of absence from work and spent 6 months doing a farming apprenticeship at the University of California. My plan was to learn a lot about farming and food systems and then shift careers by plugging into a community gardening or urban farming program somewhere. I learned a lot about farming and food systems including that I was maybe more interested in farming for myself rather than managing community gardens.
After returning to Washington I decided to continue my farming education at the farming internship at Cloud Mountain. I was interested in a program that had the people and flexibility to help me set myself up to start my own farm business, or at the very least help decide if that was really what I wanted to do. By the end of the internship I had decided to apply to Cloud Mountain's farm incubator program. I started my farm business, Vertical Fog Farm, this past season. I started out small with fairly modest financial goals and focused on just a few crops. The season certainly had its ups and downs, but I learned a lot and exceeded my financial goals. Next season I plan to expand significantly by adding more crops, expanding my production overall, and increasing my market reach as much as I can."
Currently, Em Blood farms half an acre at the Cloud Mountain Farm Center incubator site. "I'm hoping to grow as much as I can on a small plot," she says. "That means more faster-growing crops and a lot of prepping beds. I want to show others how much growth is possible in small-scale farming." Em's especially looking forward to growing medicinal herbs. She's also a soapmaker!  A recent transplant from Oregon, she's getting ready to explore what it means to be a farmer in this new climate. "I'm so happy to have stumbled upon Sustainable Connections," she says. "It's been so rejuvenating to feel all the support here. Cloud Mountain is hyper-connected, with those on the land and beyond. Everyone is so excited by farming. They've been kind and jazzed about local makers and growers."
Learn more about Sonder Farmstead and Em's story here. 
Em's especially looking forward to growing medicinal herbs. She's also a soapmaker, which has funded her farm project. At Mahonia Gardens, she grew chamomile, lavender, calendula, and marigold. Now, she's getting ready to explore what it means to be a farmer in this new climate. "I'm so happy to have stumbled upon Sustainable Connections," she says. "It's been so rejuvinating to feel all the support here. Cloud Mountain is hyper-connected, with those on the land and beyond. Everyone is so excited by farming. They've been kind and jazzed about local makers and growers."