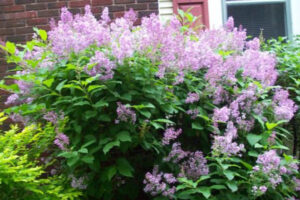 Deciduous shrub lilac, grows to 4′-5′ high, very floriferous. Deep purple buds open to fragrant, icy bluish violet flowers mid-spring before the leaves fully emerge. Good reddish purple fall color. A Great Plant Pick.
Hardy to Zone 5
photo credits,
flower @Briggs via Great Plants Pick
shrub "Miss Kim Lilac – Note date in lower right" by Towne Post Network is licensed under CC BY 2.0
.