Date: 10/05/19 - 10/06/19    Time: 10:00am - 5:00pm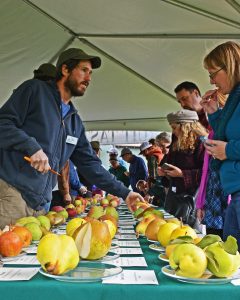 Join us for for our 30th Annual Fall Fruit Festival, Saturday, October 5 from 10AM – 5PM and Sunday, October 6 from 11AM – 4PM.
Experience the farm firsthand and savor the bounty of our region. This family-friendly event features tastings of over 200 varieties of fruits and vegetables, many grown at the Cloud Mountain Farm Center.
Enjoy live music, children's activities, cider-pressing, fruit-tasting, pumpkin patch and farm stands, and a self-guided farm tour, including opportunities to talk to our fruit tree and gardening experts. Pizza'zza New York-style pizza will be on-hand for lunch, and Mallard Ice Cream will be scooping up ice cream made with Cloud Mountain fruit for dessert. There will be pumpkins and squash, fruit, vegetables, and cider for sale, specials from our nursery, and a sale on fruit trees – buy two, and get the third free!
To celebrate the 30th year of the festival, we're offering a $30 Super Supporter Pass that includes admission for one vehicle, as well as a free Cloud Mountain Farm Center hat and caramel apple. While the entire community is invited to attend, we request that guests leave their furry friends at home.
Don't miss the opportunity to support our region's local food system and the growth of our community. Cloud Mountain Farm Center helps grow new farmers through their internship and incubator farm programs, educates home gardeners, and increases the diversity of fruit varieties grown in Western Washington. All proceeds from the Fall Fruit Festival go toward supporting new farmers in the region.
This event is made possible by the following community sponsors: Haggen, Keenan's at the Pier, Peoples Bank, CHS Northwest, Farmers Equipment Co., Scratch and Peck Feeds, Pizza'zza, and Larson Gross, PPLC.