Date: 10/05/19 - 10/06/19    Time: 10:00am - 5:00pm
Join Cloud Mountain Farm Center for a tasty and festive weekend at their 30th annual Fall Fruit Festival, Saturday October 5 from 10am-5pm and Sunday October 6 from 11am-4pm. Experience the farm firsthand and savor the bounty of our region. This family-friendly event features tastings of over 200 varieties of fruits and vegetables all grown here on the farm. This year features a more efficient tasting set up to enhance your experience when tasting fruits and asking questions.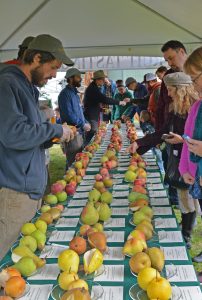 Don't miss the opportunity to be part of your local food system and support the growth of our community. This two day festival raises funds to support our internship program, our community workshops and all of the education that goes on each year at the farm.
Tickets are available: $5/person or $10/carload. Carpool and save!