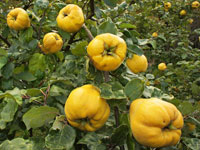 As autumn deepens, we're all enjoying the fall harvest; apples and pears, winter squash, cider and quince…  What the heck is quince???
Quince is a very old fruit, closely related to pears.  It is native to Southeast Asia, mainly Turkey and Iran, but has been grown Europe and the United Kingdom for centuries as well.  Quince is very easy to grow in the Pacific Northwest, being unfussy about soil and having few pests or diseases.  They are small trees, growing to 10′-15′, with beautiful pale pink flowers in late spring, and this very aromatic fruit.  Bringing a bowl of quince inside in October can make the whole house smell like fall.
The fruit is hard and although it has some sweetness in its flesh, it is also sour. It is not eaten fresh, but cooked.  Most recipes for quince are sweet preserves, jams or jellies, but there are also savory dishes that use quince, especially dishes originating in the Middle East.  To inspire you, we're posting a couple of our favorite recipes.  First the traditional and common:
Quince Jelly
This jelly comes out a lovely rose-pink color.  Wonderful on toast, but also great as a glaze for roast chicken or pork.
Wipe the fuzz from the skins and quarter (don't peel) 4-5 lbs quince. Place in a pan and cover with water.  Bring to a boil, then simmer, covered, about an hour.  Pour through cheesecloth or jelly bag over another pan and allow to hang a few hours to catch all the juice.  This quince juice can be used to make jelly or other preserve.  To make jelly:
Combine 4 cups of quince juice with 3.5 cups sugar in a deep pan.  Bring to a boil and boil 5 minutes or until set.  To check set, use a candy thermometer- it should read 220F.  If you don't have a candy thermometer, check set by dropping a bit onto a cold plate.  If the drop gels after a minute or so, your jelly is done. Pour the jelly into clean jelly jars and top with canning lids.  Process in a boiling water bath for 10 minutes.
And now a more exotic spread:
Quince with Fresh & Preserved Ginger
2 1/4 lb quince (I used closer to 3 lbs)
2 1/2 cups quince juice (see Quince Jelly)
3 1/4 cup sugar (I cut this back to a scant 3 cups)
Juice of 1 lemon (I also added a little zest)
3 1/2 oz candied ginger, diced small
1 3/4 oz fresh ginger, peeled and minced
Peel, stem & core the quinces.  Cut into quarters, then slice.  In a large pan, combine the quince, sugar, fresh ginger, quince juice, and lemon juice.  Bring to a boil and cook on low heat for 10 minutes.  Skim.  Stir to mix in the now softened quince pieces.  Add the candied ginger.  Return to a boil, stirring gently.  Continue cooking on high heat, stirring continuously, about 5 minutes more.  Check the set.  (I cooked almost 8 minutes for a soft set).  Ladle into jam jars and process in a boiling water bath 10 minutes.
and one savory dish:
Mediterranean Chicken
2 quinces, peeled cored and thickly sliced
1/2 cup flour
1 teaspoon ground black pepper
1 (3.5-pounds.) fresh whole chicken, cut up
3 Tablespoons olive oil, divided
1 large onion, peeled and chopped
2 cloves garlic, peeled and chopped
1 can (14.5-ounces.) diced Italian (Roma) tomatoes
1 cup water
1 cinnamon stick
2 Tablespoons chopped fresh mint
Mix together flour, salt, and pepper in a shallow pan. Lightly dredge chicken in flour mixture until evenly coated. Heat a large skillet over medium-high heat. When hot, add oil, and brown chicken on all sides (about 7 minutes). Add remaining olive oil and cook onion and garlic until soft but not brown. Return chicken to pan and stir in tomatoes and quince . Break cinnamon stick in half and add to pan with water. Bring to a boil, cover, and reduce heat. Simmer gently for 20 minutes. Cook for 15 more minutes. Then stir in the mint. Cook until thoroughly heated. Remove cinnamon before serving.  Serve on its own or on top of rice or cous cous.
Also highly recommended is a sweet called Membrillo.  (You'll find several different recipes by googling membrillo or quince paste.) This quince paste is served with cheese and is a common component in tapas assortments.