By Sarah Miller, Cloud Mountain Farm Center Intern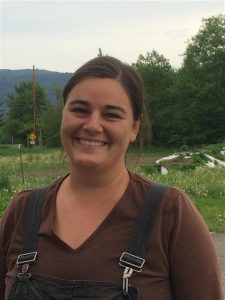 Recently I had the pleasure to speak with Anna Morris of Slanted Sun Farm about her experience as an Incubator Farmer at Cloud Mountain Farm Center. The Incubator Farm Program is dedicated to maintaining and improving the local food system in Whatcom County by leasing land to new farmers, while sharing facilities and equipment to aid in the development of new farm businesses.  Anna is in her second year at the Incubator Farm and spent time sharing her experience thus far.
Graduating with a B.S. in Community Health Education from Western Washington University in 2010, Anna began her career interning with the Lummi Nation, working to promote indigenous foods, community gardens and health initiatives on the reservation.  While she loved working with the Lummi Nation, Anna realized quickly that she is better suited for a life working outside instead of behind a desk.  Since then, Anna has spent time traveling and farming, working on a permaculture farm in Nicaragua, and spending time developing skills stateside in Idaho and California before beginning an eight-month Organic Farm School program on Whidbey Island at Greenbank Farm.
The Organic Farm School proved to be a catalyst for Anna, allowing for transformative thoughts on organic farming, building her confidence as a farmer, and giving her the time and space to explore the possibilities of what farming could become in her life.  There, Anna also developed serious skills around crop planning and succession plantings as well as participating in growing a community of women farmers in western Washington.
In her first year as an Incubator Farmer with Cloud Mountain Farm Center, Anna utilized 3-quarters of an acre of land.  This year, Slanted Sun Farms has increased that number to a full acre.  Anna has been focused on impacting the local food system by providing access to healthy and sustainably grown food produced for those in need by engaging in the Lydnen, Growing Veterans, and Twin Sister Farmers Markets.  This connection to the Whatcom community has been an important part of the mission of her farm, and drawing on the parallels from her time with the Lummi Nation.
When asked about the things that have helped Slanted Sun Farm to succeed and what advice she would like to share with new farmers looking to develop, Anna brought up skills like unrelenting assessment and observation, developing a keen memory, and the ability to systemize aspects of farming for the benefit of time management.  Also mentioned in her recipe for success was her partner Jared and his tireless support of Slanted Sun Farm whether during harvest, or for moral support.
Sharing what she hopes folks should know about farming, we discussed how farming is WORTH IT!  Often times, the price you see at the farmers market does not reflect the true cost of production but more what people are willing to pay.  If you can afford it and want to see local farmers succeed we should be paying more for produce grown on small farms close to home.  She emphasized that the lack of transparency can often make organic farming seem idyllic, but with more people learning about their community farms it may make it more accessible to those outside the agriculture loop.   Anna also shared how important it is to know the people growing your food, and for those growing the food to know those being nourished by it.
This year Anna has developed a value-added product, which will be available this fall.  She will be growing more than 300 Basque pepper plants and drying the Basque pepper to make ground Espelette powder.  This long red pepper is known for intense flavor without adding a great deal of heat and is often used as a replacement for the traditional black pepper.  Traditionally called Piment d'Espelette, this is a culinary spice that is often used in Basque cuisine and adds a subtly fruity spice to any dish.   The drying of these peppers will be done in the Processing Center at Cloud Mountain Farm Center in a commercial food dehydrator.  The Processing Center is another way CMFC develops and invests in members of the new farm community.
Within 5 years, Anna hopes to acquire land in the area, add animals to her production, increase vegetable growth to 5 acres annually, hire a few employees and diversify to include more value-added products within Slanted Sun Farms production.  We wish her all the luck, and look forward to her next experiment in farming!
Find Anna at: Anna@slantedsunfarm.com and https://www.facebook.com/slantedsunfarm/
Sarah Miller comes to Cloud Mountain Farm Center from the Chicago area, where she spent 12 years working in higher education at DePaul University before deciding to pursue a life in agriculture. Sarah chose Cloud Mountain for its mix of experiential learning and classroom work, along with the opportunity to live in a rural area.