We were just reflecting on the internship season we've just finished and thought we'd share one of our favorite memories:
In week 28 of 35 we are in the heat of summer, interns have drafted most pieces of a business plan, been through most of the heavy technical classes for the year but do not realize yet that the end is coming.  It's the peak of the season and their early idealism has been pushed aside for a while by the weekly harvest and sales numbers, growing pest pressures, and the daily grind of hard physical work.
On August 11, we pile everyone into a rented 15-passenger van for the hour-long ride south to the upper Skagit valley.  The Skagit river is the largest stream in western Washington and the lush river plain where it intersects with the Sauk river has nourished populations of human beings for at least 8,000 years.  We have three farms to visit there today.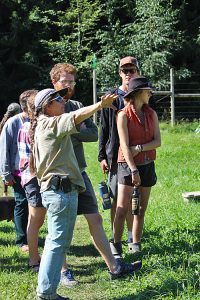 Our first stop is Blue Heron Farm, where Anne Schwartz, an organic farmer and outspoken advocate for sustainable agriculture since the late 1970's, meets us in the driveway, skirting smartly around our big white van with her small and disheveled nineteen-eighty-something Toyota truck and popping from the woods a few moments later.  She is short and angular, arms strong and gnarled from years of physical labor, but she is gentle and welcoming in her tough, self-aware seriousness.  She says, grinning, that she had promised to give an inspiring speech on why farmers should "go to meetings", and involve themselves with the University and government processes near to them, but "this morning she is just pissed."  Anne goes on to explain her frustrations with some of the new directions in a sustainable agricultural organization she helped to form nearly 40 years before.  While showing us around the 6 acres of vegetables and introducing us to the folks who help run it, she talks with us about her struggles with white rot, her successes in partnership with the Pathology lab at WSU, and how despite her views and scale, she has found much support in the larger ag community around her throughout the years.  We move on far from discouraged.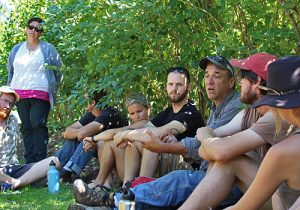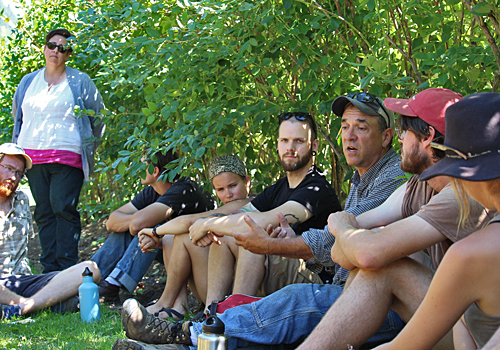 Our next stop is just a few minutes up the road, a farm where Anne first worked when coming to the valley and known across the country for the pastoral scene portrayed on millions of organic prepared food products: Cascadian Home Farm, the original site of Gene Kahn's New Cascadian Survival and Reclamation Project in 1971.  Today the farm is, by Gene's own admission, a "P.R. Farm" owned by General Mills, and supplies sweet corn and berries to the roadside stand and models sustainability to marketing staff of General Mills.  The farm has been run relatively autonomously by its manager since its sale in 2000, and now has been taken on by Mike Peroni, who farmed over 50 acres of vegetables independently until this year.  Mike, like Anne, is originally from the East coast and has taken on a huge career transition in order to share his thirty years of farming experience in a way which might affect the larger picture while easing his personal sacrifices.  Mike walks us into the shade of the tall blueberries, takes a seat on the ground and proceeds to talk the challenges of blueberry production directly through to the challenges facing small scale farmers and how he hopes to help from his new position.  His story is laced with negativity and hope, side by side, and leaves us all contemplating the strange position we all find ourselves in the modern food system.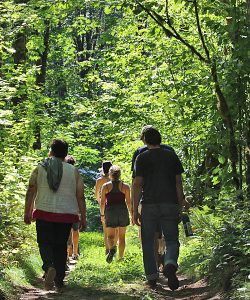 The last stop of the day is back down the road, right across the street from our first stop, but we have trouble finding it, even though our Education Coordinator has been there twice before.  After driving past it twice, we find our way through a few gates into the woods, where until the moment Matt VanBoven walks from the woods to greet us, we're still a little unsure if we're trespassing or not.  The creator of Feral Farm, shirtless, with a long grey beard protruding below his thick glasses and camouflage baseball cap, apologies briefly for the roadkill hanging in a tree behind him before launching directly into a detailed description of the plants around us and why he has planted them there: "the edges of the forest here are the richest because of the frequency of dog and human urine".  We tail him through the woods as he describes how he has taken on a version of Native American land management by haphazardly promoting species which are beneficial to people while culling species which don't benefit people using broad assessments of his 80 wooded acres and adjoining properties based on soils, present species, and waterways.  His assertion that "the species here are changing because of the climate anyway, we might as well engineer an environment which promotes our survival", is controversial with environmentalists as well as farmers.  After nearly two hours he has given us countless descriptions of the edible species he has been successful promoting which had been left behind by agriculture because of the difficulty in marketing them, and showed how he has cultivated a community of artists and suburban refugees in tiny, charming, un-permitted cob buildings.  We are mostly hooked: inspired and enamored with the freedom and adaptability of his world-view and his obvious love of plants and people.
Three revolutionary farmers in three completely different dimensions, living just minutes from each other in an area that experiences over eighty inches of rain each year and in a zip code which claims only 16 agricultural operations according to the National Agricultural Statistics Service.  Skagit magic, Thanks Skagit.
–Sean D'Agnolo
Be sure to catch Sean at the Tilth Conference Nov. 11 – 13 where he'll be on a panel talking about cultivating healthy intern and employee relationships.