By Chrissy Hoefgen
Cloud Mountain Farm Center is a very diversified organization; growing a number of perennial and annual fruits, vegetables, and ornamentals requires many helping hands. In addition to the twelve full time staff members on site, CMFC also hosts seven first year interns, and this year, a second year intern, which is me, Chrissy. A day in the life of a second year intern holds many learning and teaching opportunities to experience the grit and the grace of farming.
Every morning after stretching my body (which is frequently sore from the previous day's workload), I throw on a pair of long johns for these damp spring mornings, dirty kneed Carhartt's, a few long sleeve button ups, maybe a knit hat to keep my hair back, and head downstairs to prepare for the rest of my day on the job. As a second year intern, I am more involved with the behind the scenes work. This year I take part in the decision making, task delegation, and communicating logistics of the day to day function of the working farm. Each day the production team, which includes myself, Matthew the Production Manager, Chris the Farm Lead, and Rob the Post-Harvest Coordinator, lines out tasks relevant to weather conditions and season. For example, pruning European pears, transplanting Alliums, harvesting salad greens, and disking ground for future vegetable beds.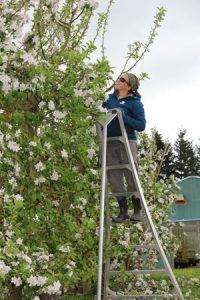 While my main focus for this year is orchard management and fruit tree physiology, my role and responsibility is varied because of the many systems at CMFC and the diversity of goals I have as a growing farmer. The knowledge I collected from my first year was very wide ranging and broad. I was introduced to many new and intriguing agricultural practices, perspectives and concepts. With the opportunity to return to Cloud Mountain for a second year, I was able to narrow my focus and objectives, and set goals based on my interests and potential future enterprises- which I hope to be perennial fruit cropping systems. I've been involved with the observation of trees stages, and the decision making process about when and how to prune the trees, spray for diseases and/or pests, thin fruit set, and harvest the ripened fruit. Being a part of this process prepares me to make these decisions for my own business someday.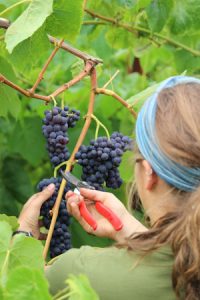 At the end of each day, although typically exhausted and dirty, I leave the farm with a sense of empowerment. I am fortunate to work within a community who supports my dreams and aspirations as a young female farmer, and encourages me to grow and stretch my level of comfort and knowledge. I look forward to waking up in the morning and being able to return to the beauty of this season's new flowers emerging from the bud they once lived inside. I also look forward to spending eight hours of my day outside, tending to an array of unique organisms, planting tiny seeds in organic soil, and the nonstop information I devour daily. Life on a farm is far from leisurely, but oh, is it remarkable.