These last weeks of March, as winter begins to loosen its heavy grip, many of us get excited to get early ground turned in preparation for peas, oats, and anything else we thing we might get to survive the remaining spring awakening in the still cold, 42°F soils.
There are a lot of tools and a lot of soils so we thought we'd highlight a few in place here at CMFC  and with some of our incubator farmers.
Chisel Plow
We had some ground with a late season crop in it, which we're always hoping to cover as soon as possible.  The dry window we got in the end of February gave us a moment to run a chisel plow through our late-cropped soil.  Last week we had another dry window and just in time to let us run the chisel through it again and give us some rough ground to transplant in some Napa cabbage which was begging for space to grow.
Our chisel plow reaches down a solid 12 inches, with more possible depending on soil conditions, and then the roller behind helps to crumble and flatten the small ridges it can create.  It creates deep fracturing without inverting the soil or creating flat, downward pressure which can create a hardpan layer.
Walk-Behind Tractor
One incubator farmer who took advantage of the early chisel window, Foothills Flowers, chose to follow up with a BCS walk-behind tiller, using the shallow tillage and lightweight equipment to prep multiple beds for direct seeding of a dozen or so flower varieties. They were also able to sow beets for a contract through the Bellingham Food Bank's Seed Money Program (a program sponsored by the Community Food Co-op's Farm Fund which dovetails volunteer gleaners with funding for new farmers).
Occultation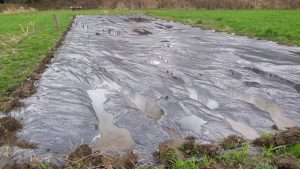 Popularized by Jean Martin Fortier, this method uses silage tarps to block light and rainfall in order to germinate weed seeds and then kill them with a lack of light, as well as kill a cover crop and activate the soil microbiota.  This is one being experimented with by incubator farmers Slanted Sun, as well as our neighbors at Small Acres.
Broadfork
Another cool tool for early soil prep that works similar to a chisel plow,  but on a micro-scale, is the broadfork.  Here's one from Meadow Creature, doing its thang:
I place the fork (20" wide with 16" tines) 4 to 6 inches behind my last penetration. I wiggle and dance the tines all the way down—in some cases you might not go quite so deep, but for our first ground-breaking, I want as much aeration as possible to activate the soil microbial community, and no chance for a pan higher in the soil profile, should that be the unforeseen consequence of my ambitious actions.
And leeaan back!  Leveraging the forks against the unworked ground behind me.  This is a good place to be very conscious of keeping your hips all the way forward so you're using the strength in your shoulders and arms with the weight of your body rather than pulling with your back.
Keep working back against the unforked soil for leverage.
Being very conscious of a good stance (knees bent, one foot slightly ahead of the other), and pushing from that front foot, I wiggle the fork from its last placement to begin anew.
In this heavy silt loam, the broadfork allows deep aeration without destroying the soil structure as a tiller would. Watch a video of a broadfork in action at other farms here.
So whatever your method, good luck and remember to go easy early, and avoid compacting action while stimulating your soil microflora to life.  This year they're extra sleepy!