We have been blessed in Whatcom County this fall and early winter with more sunshine and less rain than normal. But even in the dreariest November and Decembers, you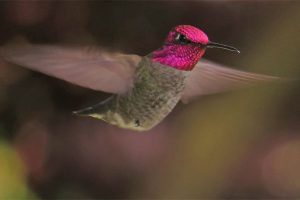 can find hummingbirds warring over winter blooming plants. Plants that bloom in the fall and winter do more than make the overwintering Anna's Hummingbirds happy, though. They also provide nectar and pollen to help our pollinator insects make it through the dark months.
What are some plants you can add to your garden to brighten the winter days? Here is a list of our favorites:
Hybrid Mahonia These large evergreen shrubs are hybrids of Asian species of Mahonia, close relatives of our native Oregon Grapes. Named cultivars including Charity, Arthur Menzies and Lionel Fortescue are available most springs at local nurseries, including Cloud Mountain. They bloom over a long period, usually beginning in early November, and flowering right through the winter, ending their bloom period right about when our native Tall Oregon Grape, Mahonia aquifolium starts to flower. Their scented yellow flowers are attractive to bees as well as hummers. All of the hybrid cultivars will eventually reach 12′ or more, so give them room. They prefer rich garden soil in partial shade, and once established need little summer water. They are quite prickly, so plant them away from pathways. Deer leave them alone! A bonus- the blue berries ripen in late summer, attracting songbirds like Cedar Waxwing.
Grevillea victorae This evergreen shrub from Australia is commonly known as Silk Oak or Royal Grevillea. It is a shrub for well drained, lean soils and full sun. They need no summer water once established. The gray green leaves are not showy in of themselves, but in late October, the blooms begin- tubular orange-red flowers that are hummingbird magnets. This shrub can be in bloom from October through early April. Full open blooms may be damaged by freezing weather, but more are waiting to open. Give this plant room as it can reach 8′ high and wide in 10 years. A slightly slower growing Grevillea hybrid, Marshall Olbrich, can be in bloom an astonishing 9 months!
Salix sp. Sometimes we forget that pollen is important to overwintering pollinators. Planting pussy willows can provide an important pollen source for bees during the winter and early spring. The Pacific Northwest has several native shrub willows, and there are also non-native pussy willows for the smaller gardens. These shrubs are very tolerant of wet soils, but will be browsed by deer.
Erica x darlyensis Winter blooming heathers are a boon to wild bees. Observe a blooming heather on a sunny winter day, and you'll usually see numerous bees foraging on it. Along with crocus, heather is one of the best plants to add to your garden for overwintering pollinators. Hummers will also visit the flowers. The blooms are usually pink or white, and some have golden foliage for added interest. Heathers need moderately good soil and lots of sun. If your soil is very well drained, you may need to water occasionally during dry summers.
For a longer list of plants that attract pollinators and feed them year round, check out our Encouraging Pollinators handout.